Kitchen Make-Over ..........
You have heard me talk about a kitchen make-over for .............. say, 2 years now.
You are lucky. My poor sweet honey has heard about it for 19 years.
Yea .... you can feel sorry for him.
But it is happening. Not until December but it is happening. Between Christmas and New Years. Because Honey is off work then and he doesn't have to mow in December. If it snows .... he will get more done.
And if you want to ask us out to eat in the above mentioned time frame .... we will gladly accept your invitation. Unless I go over budget ......... and then I will accept a peanut butter and jelly sandwich to go.
But between now and November ... a lot of decisions have to be made. And I have made a few!
Today ... we will talk cabinets door styles and stain colors.
There were several things on "the list" that I considered important.
1) I wanted an all-wood cabinet.
2) I wanted 3/4" solid wood drawer box with dovetailed sides.
3) I wanted full-extension glides on the drawers.
4) And I wanted the "look".
Number four has been the tough one to accomplish.
Oh wait ..... then there was the budget. But I did come within a reasonable range. OK ... we came really close to nailing it!!!
So I decided on a company named
Kabinart
. They make a solid wood cabinet and I am happy with the quality.
I chose a maple door with a recessed panel....... called
Hampton.
I am doing painted finishes throughout .... this is a lovely ivory color that will be on the majority of base cabinets. It is just a shade lighter than the Sherwin Williams "Blonde" paint that is on the walls. We will also be painting two existing wall cabinets to match.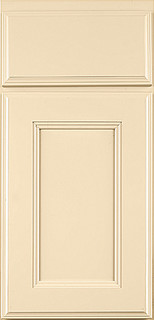 Then I am mixing it up a bit with another door style that will be on a baking center. The door has a bead board insert. And we are putting bead board on the back of these cabinets and the backsplash. I want it to look like a piece of furniture.
There will be restoration glass in the wall cabinets. Restoration glass is old style hand blown glass. It is wavy and bubbly and perfect for my old house.
The cabinets in the baking center will be a light green (Willow) with a coffee glaze over it. The door style is called .......Cottage. Yea ... it fits.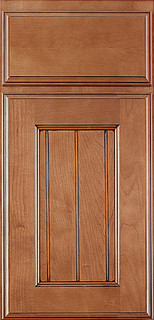 The sink base will also be the willow green. I think it will be nice with the farmhouse sink.
Now to move on to other matters..... floor, hardware, faucets and countertop. Might be a while as I am struggling to find exactly what I want for the price I want to pay. Yea ..... I will tell you about it as I figure it all out
But you knew that already! ;)